Paris Session 2022 - CIGRE Women In Energy
Next Steps for Women in Energy Transition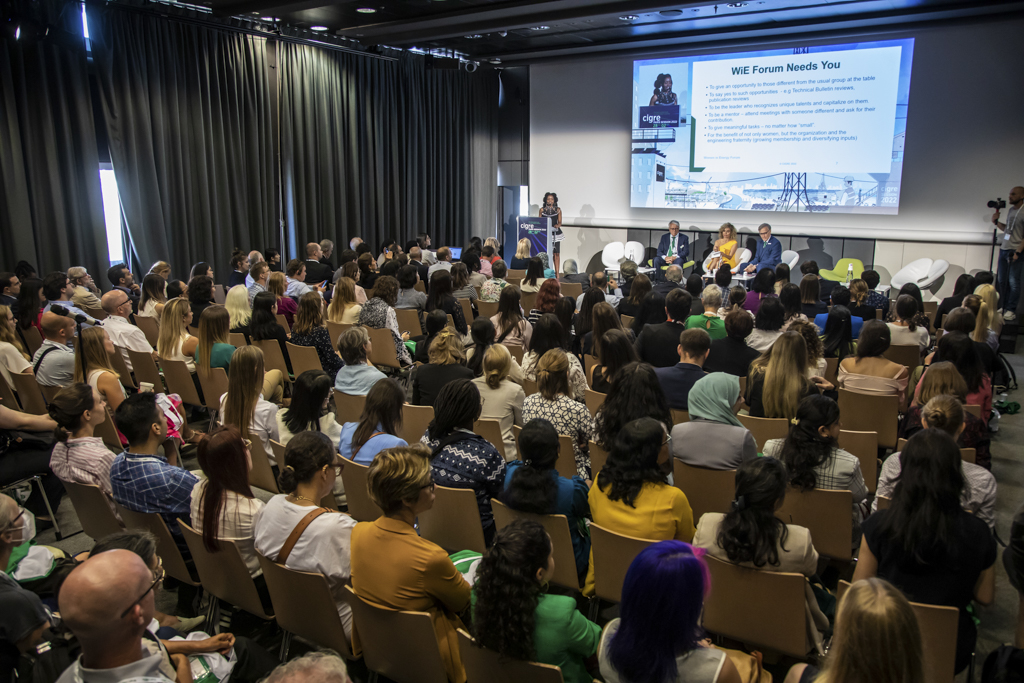 Paris, France
1 September 2022
The 6th CIGRE Women in Energy Forum was held on September 1st, 2022, during the CIGRE Paris Session. Under the Theme: "Next steps for women in energy transition", the session gave a forecast into the future of energy and the next steps for women in the energy space.
The role of women in the energy sector and how to inspire women to take active participation within CIGRE activities was also discussed.
In person, there were more than 200 people in the Forum, which was also broadcast online to several CIGRE member.
The session was divided into four parts, which are commented on in the next topics.
Opening Address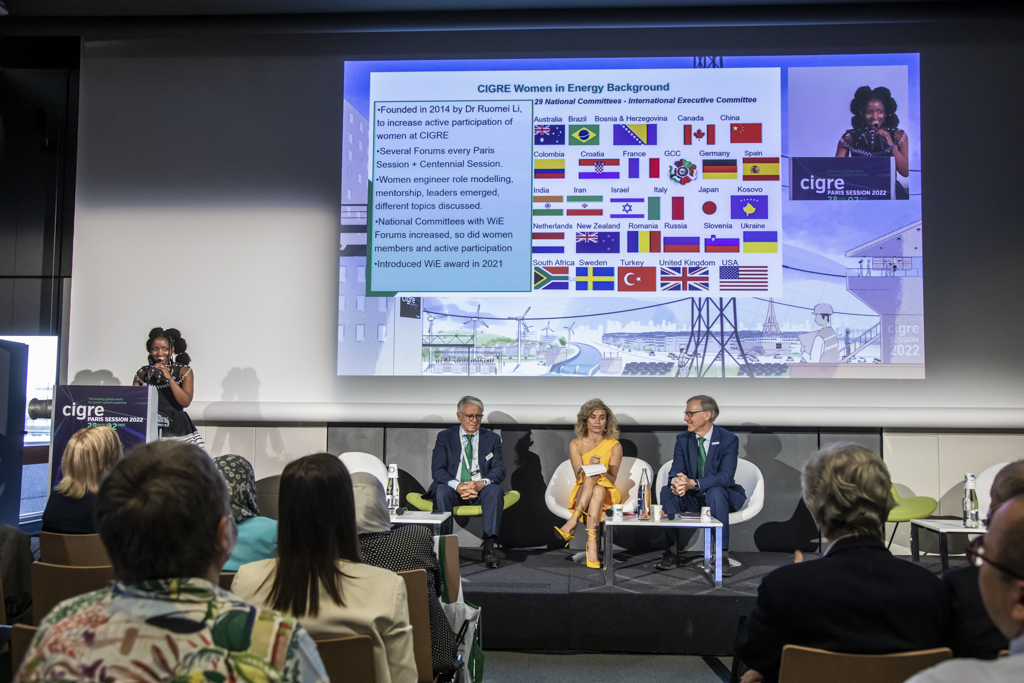 First there was an Opening Address from the President of CIGRE, Mr. Michel Augonnet, the Secretary General of the CIGRE, Mr Philippe Adam, and the outgoing international WiE chair – Ms Khayakazi Dioka (2018-2022). This session was moderated by Dr. Biljana Stojkovska, CIGRE International Vice chair-elect (2022-2026).
Mr Augonnet and Mr Adam spoke of CIGRE's support for WiE activities and the recognition of the importance of diversity, from some perspectives, including its benefits, the need to encourage more actions for the development and inclusion of women in the technical, management and leadership areas. Indicative figures were presented of the evolution of women's participation in CIGRE, which should be increasing, according to the engagement of women in the institution. It was also highlighted the need to have discussions and practical solutions around the inclusion and retention of women in the energy sector, in general. It was recalled that the technical committees of the various countries that are part of CIGRE have an essential role in this initiative, to encourage and support women, to expand their participation and work.
Ms Khayakazi Dioka presented her life trajectory, with emphasis on her professional development and the importance of education and participation in study committees and technical activities for her improvement, in addition to the support of other professionals in the sector. Her emphasis was on the need to bring your unique self to the technical discussions in-order to bring about diversity. The testimony was inspiring for women and professionals, in general, as an incentive for active participation in CIGRE activities.
Energy Transition CIGRE
Next was the panel on Energy Transition - CIGRE future perspective, with participants Ms Mathilde Louyrette, Mr Marcio Szechtman and Dr Britta Buchholz. Dr Biljana Stojkovska was the moderator.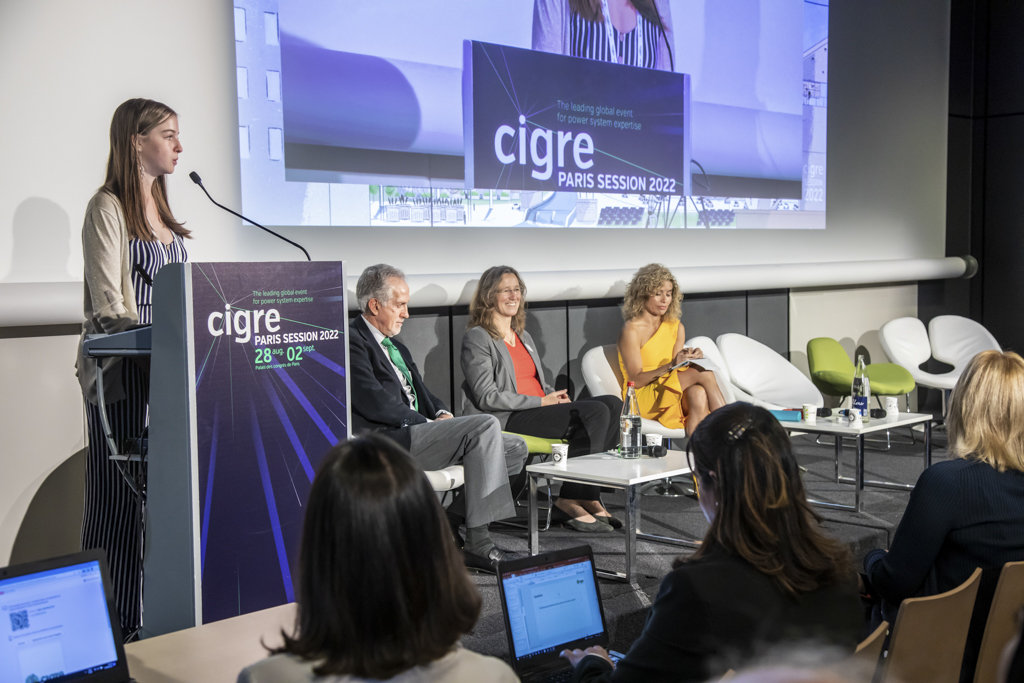 This session was about CIGRE plans on Energy transition and the introduction of the 2 Working Groups on energy transition. The first speech was by a 15-year-old French student on her vision, hope and will for her future and the energy world she expects.
Secondly, the technical director of CIGRE introduced the newly stablished SAG on Energy Transition and its intentions. This was followed by Britta's (WiE NZI Chair) feedback on Net Zero Initiative and its alignment to the overaching SAG.
Ms Mathilde Louyrette presented considerations under the energy transition from a student's perspective, indicating concern about a world that is under pressure with greenhouse gas emissions and the need to take practical measures to seek to achieve emission reduction by 2050. On her vision, there is hope for the future of the energy world to be increasingly sustainable, which depends on effective measures by governments and companies and is essential for future generations.
Mr Marcio Szechtman - SAG on Energy Transition (Strategic Advisory Group on Energy Transition), gave a presentation in which he highlighted the changes observed in the world in relation to the various sectors and, in particular, to electricity, indicating the search for renewable sources and other technologies, such as storage, hydrogen, carbon capture and storage, as well as issues inherent in the process, such as new business models, challenges of the operation of electrical systems and cybersecurity. He spoke about the Establishment of a CIGRE SAG to share relevant aspects of Energy Transition (SAG-ET) and impact upon the Electrical Industry and CIGRE. The objective of the SAG is to establish effective mechanisms to listen, understanding and reacting to manufacturing, planning, design, operation, innovation and regulatory industry's trends and needs, including disruptive technological developments, gathering a selected core of highly qualified opinions and international experiences. This group proves to be one diverse community with experts from different industries, different countries and of different age and gender.
Dr Britta Buchholz – chair of Net Zero Initiative, presented the activities that have been developed by the NZI group at Women in Energy. It was reported that there was a meeting on 28 October 2022, in Paris, with the participation of members from 15 countries: Australia (AU), Bosina and Herzegovina (BA), Brazil (BR), France (FR), Israel (IL), Germany (DE), India (IN), Kosovo (KO), Romania (RO), South Africa (ZA), Swaziland (SZ), Switzerland (CH), Turkey (TR), United Kingdom (UK) and United States (US).

In the presentation it was highlighted that the representatives discussed, among others, the following issues:
How does climate change impact the energy sector. At the meeting, were presented stories around the globe and examples collected from Australia, Brazil, India, Bosnia and Herzegovina and South Africa.
How to accelerate energy transformation? In this topic: (i) the best practices seen so far were cited, such as examples for solutions, new materials, power systems design, new formats in communication, sketch & poetry; and (ii) the next steps have been indicated, such as develop perspectives from different lenses and recruit further members with further different backgrounds.
Dr Britta read a poem kindly prepared by By Themesha Khan entitled "I had a vision" - 2050. The poem was greatly appreciated by all.
Panel Discussion - Net Zero Initiative
Thirdly, the Panel Discussion on Net Zero Initiative took place, with the participation of the following panelists, in alphabetic order: Dr Biljana Stojkovska, from United Kingdom; Dr Jun Wen, from United States; Ms Marcela Mantilla, from France; Ms Pranvera Dobruna Kryeziu, from Kosovo; Dr Tina Chou, from Taiwan; Dr Solange David, from Brazil, was the moderator of the panel.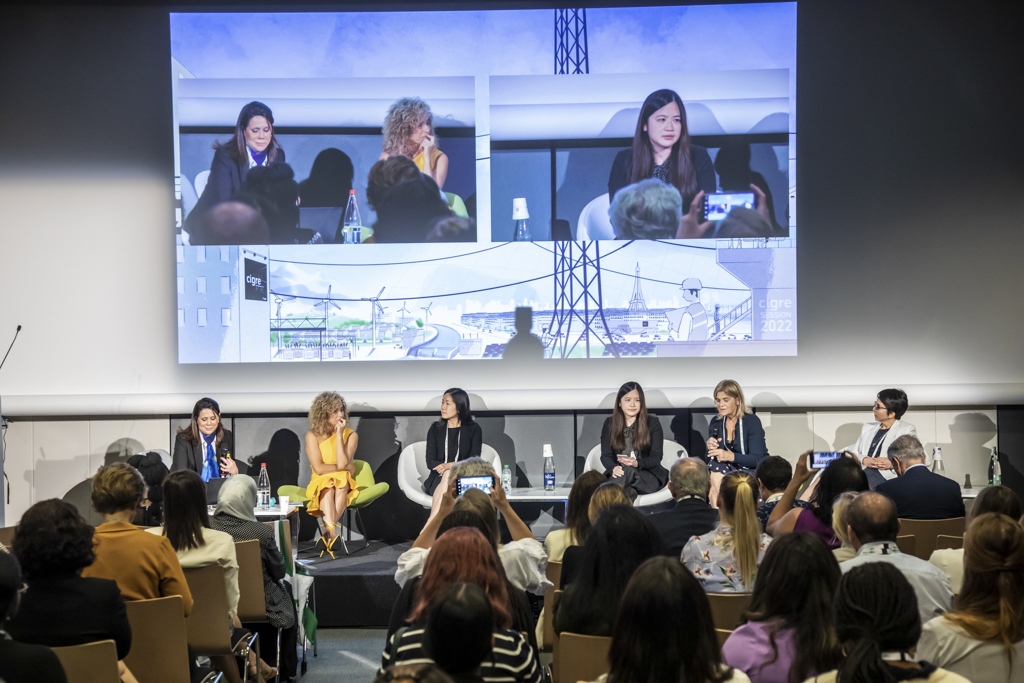 The aim of this session was to expand on the scope of the net zero initiative and collate data, share immediate results and views from different countries.
Seven questions were presented to the panelists:
1. How does climate change affect your job / your life / your company / your country / your region?
On this topic, Dr Tina Chou commented on the situation in Taiwan, Dr Jun Wen commented on some aspects of climate change in California and Dr Pranvera commented on the situation in Kosovo, in addition to addressing questions about the impacts on people, work and companies as a result of climate change. They mentioned the importance of having more efficient public policies to address some of the issues, in addition to solutions coming from the companies themselves regarding the energy system and sustainability, including interconnection with renewable energies. The need to decide more efficiently, with a view to future generations, was also emphasized.
2. How do you balance energy security and net zero the complementary aspects in your context?
On this issue, Dr Jun Wen, Dr Pranvera Dobruna and Dr Tina Chou commented and understood that when we talk about climate change, net zero, and what countries and companies are doing or thinking in terms of expanding renewable sources in the matrix, energy security is an issue that always comes up. In other words, there must be a balance between the two visions and the measures that are adopted for decarbonization, given the essentiality of energy consumption for the development of countries and the expansion of progress with more inclusion in societies. The need to analyze the costs and benefits involved was considered, due to consumers who may have lower payment conditions for the maintenance of the system.
3. Which partnerships are needed to succeed to reach Net Zero?
Considering question number 2, about energy security and net zero, it was understood that the two views must be connected and integrated, as well as all stakeholders, of different areas, as commented by Dr Biljana Stojkovska and Ms Marcela Mantilla.
When it comes to stakeholders, it was recalled that one of the 17 Sustainable Development Goals is the formation of partnerships, in a vision of walking together. It was commented that connections between various stakeholders are needed, such as Governments, Industry in general, financial institutions, academies, NGOs, technology companies, and institutions such as Cigre, which promote debate, and technical study, and propose solutions and discussions that add value. The participation of society in general is fundamental in this.
4. Which strategies are in place in your countries or regions to approach Net Zero?
Dr Biljana Stojkovska, Dr Jun Wen and Dr Tina Chou commented on this issue and the importance of establishing strategies, defining actions, indicators and results to be achieved. Several considerations were presented, considering that, due to decarbonization commitments, governments and the private sector are looking for new ways to reduce emissions to achieve the Net Zero targets. The issue involves several aspects, considering different areas, such as the electricity sector, buildings, air and land transport, land use, industrial production.
5. Education / How could CIGRE support?
Invited to speak on the subject, Pranvera Dobruna and Marcela Mantilla stated that education should be considered one of the main aspects to be addressed in the Net Zero scenario.
It was highlighted that the relevance of CIGRE can also be found in the diversity of agendas of the different participating countries and that there are many possibilities for CIGRE to help accelerate the goals of Net Zero, such as technical productions on the topic, the promotion of forums for the exchange of experiences and debates, interaction programs for innovation, extension initiatives.
6. Which groups already exist to work on this?
Panelists commented on existing initiatives and groups to work in various areas regarding Net Zero.
7. What can you say from a legal-regulatory perspective and policies in your country? What about the responsibility for developing activities on net zero?
On this issue, it was commented by Ms Marcela and Dr Pranvera that all initiatives for the transition to Net Zero must be fair, equitable and inclusive. It was also considered that the infrastructure investments (infrastructure investment commitments) are implemented in an equitable, effective and timely manner.
The panelists presented rich considerations, which were observed by the audience in a particular way, in view of the initiatives that have already been and those that can be adopted in the short, medium and long. It was considered that the essential requirements for Net Zero and the Energy Transition are the following: a solid legal framework; public policies; good governance; funding; education, technologies and industry and society on board.
Proposals and considerations will be compiled and discussed on within the scope of Women in Energy /NZI. It was clear from the Panel that there are several relevant initiatives in the countries and companies in which the panelists work, noting that the NZI initiative must ensure that the transition to net zero is just, equitable and inclusive.
Closing
Finally, there was the Closing and leadership handover, in which the outgoing international chair for WiE – Khayakazi Dioka (2018-2022) firstly thanked the previous international chair and the founder of CIGRE Women in Energy in 2014 Dr Ruomei Li. She then presented the incoming international chair for WiE, Solange David, who, on behalf of all the members of Women in Energy CIGRE thanked Khayakazi for all the work developed with great commitment and dedication. She also thanked CIGRE International and CIGRE Brasil for the indication of her name for this role, noting that, in fact, it is a joint work, men and women, in an integrated and collaborative way.