CIGRE Romania - Regional South-East European Conference (RSEEC 2020) - 5th edition
CIGRE's Romanian National Committee organized, with the support of CIGRE Paris, CNTEE Transelectrica SA (the Romanian TSO), University "Politehnica" of Bucharest - The Faculty of Power Engineering as co-organizers, A-LSTR (Live Working Association from Romania), SIER (the Society of Power Engineers in Romania), CNR-CME (Romanian National Committee World Energy Council), The Stefan cel Mare University of Suceava, and the Energy Commission of the Technical Sciences Department of the Romanian Academy hosted ON-LINE with success the 5th Edition of the CIGRE Regional South-East European Conference (RSEEC 2020), between 12-14 October, 2020.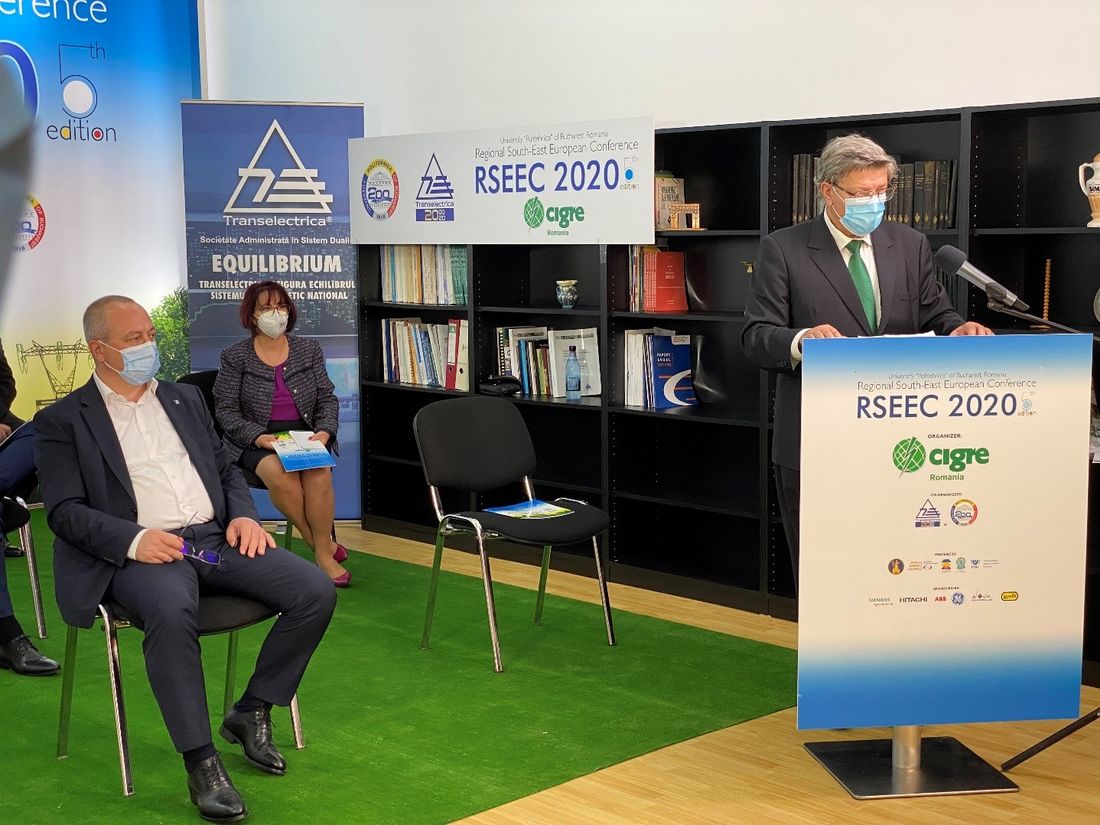 Bucharest, Romania
12-14 October 2020
The conference brought together power systems engineers, decision makers, economists, academics, students and others with interest in the domain.
The 2nd edition of the young engineers competition "Next Generation in Energetics" with prizes offered the opportunity for university, masters, and PhD students to present their results (both theoretical and technological) in a different context to university, in the presence of power specialists from over 7 countries.
The best papers were selected and will be proposed by the Technical Committee for publishing in scientific magazine "Buletinul Universitatii Politehnica din Bucuresti", C series, with International Scientific Indexing.
Main topics of RSEEC 2020
State of the Technology for electrical networks of the future:
Digital Substations;
Power System, Electricity Highways;
Power Electronics, FACTS;
New equipment, environment, sustainability;
Active transmission and distribution networks;
New concept in planning and operation.
Electricity-key factor for society development:
Smart cities:

Cyber security;
Electrical transport.

RES technologies:

Energy storage;
Energy efficiency.
Challenges in education of power system workforce:
Education and training;
R&D programs application.
Key facts from RSEEC 2020 5th edition
155 registered participants on line from 7 countries and a wide area of interest (public power sector, universities, power private sector, etc.), from national or international companies;

The conference included 5 tutorials:
Revision of IEC60296, IEC60422 and changes to new edition (Bruce Pahlavanpour, Nynas, England)
Hydrogen and Sector Coupling on the road towards Deep Decarbonization (Alexander Peschl, Siemens, Austria)
Reserves providers from ancillary services to standard reserve - Romania integration in EU platforms (Doina Ilisiu, Romania)
Large Overhead Lines (OHL) Crossings. Particulars Crossing vs. Transmission Lines Design. Details of Romanian Crossings (Gheorghita Georgel, Romania)
Enabling Teleprotection via packet switched wide area networks with guaranteed performance (Christian Roth, HITACHI ABB Switzerland)
The technical paper sessions with 30 articles were presented over 3 days (more details on www.rseec2020.org).
3300 Facebook reach for the posts during the event and 1700 views for the live events.
The Organising Committee was delighted with overall success of the event and are thankful to CIGRE Central Office, the Technical Committee, and all of our delegates, volunteers, and partners.
We are looking forward to the 6th edition of CMDM in 2021 that will be held in Bucharest together with SC A2 & SC B3 as a Joint Colloquium hopefully in the traditional way this time.