Energy islands in Denmark
Danish politicians are pioneering the concept of energy islands with the agreement to erect two energy islands in Danish waters around 2030. One will be placed in the North Sea as an artificial island and one in the Baltic Sea at the Danish island Born-holm.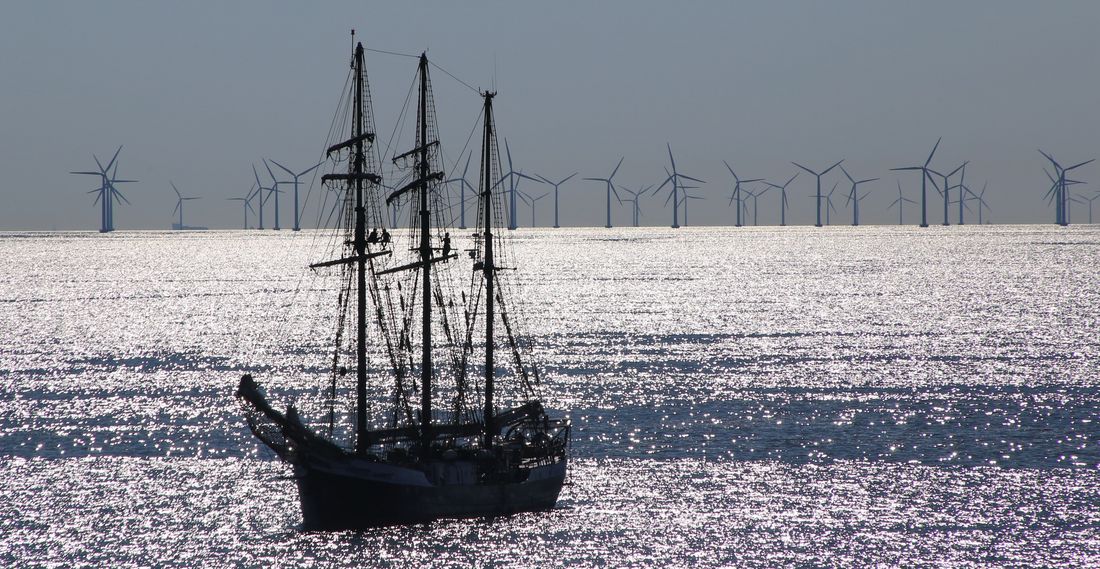 by Thomas Laursen
Energy islands are one of the most vital new steps, we must take to scale up and speed up the deployment of the massive amounts of offshore wind energy that is needed to decarbonize all energy consuming sectors in Europe, and indeed the world.
That is also why the Danish energy islands first and foremost will have a significant impact on future decarbonization because of all the other energy islands that will follow. Just as the first Danish offshore windfarm in 1991 became a real breakthrough in the light of the commercially viable global industry off mass scale offshore windfarms that gradually evolved during the 30 years hereafter.
The largest infrastructure project in Danish history, the two energy islands alone will triple the current offshore wind capacity in Denmark by the early 2030'ies. Today we have about 2 GW of offshore wind capacity in Denmark, whereas the two energy islands in their initial phase alone will add about 6 GW.
Thus, although of huge importance and size when it comes to installed offshore wind energy capacity in Danish waters, it is important to look well beyond the energy islands as physical entities to get a real grasp of their perhaps most significant contribution to Europe- and worldwide decarbonization.
We must look beyond the islands themselves and towards the very important transfer of knowledge and technology that the actual designing, planning and construction of the islands can deliver to the world.
This transfer of technology and knowledge will most probably constitute the two energy islands as the seminal first of many more to come - marking the beginning of a new phase in the development of coherent energy systems across borders with high shares of renewable energy.
A new paradigm
Energy islands foreshadows a new paradigm for the grid and more generally for the energysystem in Europe, connecting 300 GW of offshore wind power capacity as targeted in 2050 by the EU, with energy consuming households and industries even in areas and countries deep inside Europe far from any shore.
We are going to continue with connecting offshore windfarms relatively close to shore with point-to-point connections with AC (alternating current) power cables that feeds directly into onshore grids.
We are even going to continue, as is already the case in the German North Sea, to build point-to-point connection with DC (direct current) cables and converters, when the distance from shore to the offshore windfarms is more than approximately 100 km.
But energy islands are the third and new principle we need to effectively and cost-effectively harvest the amount of energy needed from areas very far out at sea when decarbonizing all the uses of energy in Europe.
For electricity to travel without too much loss of energy over long distances it is well known that HVDC (High Voltage Direct Current) is the right choice. Therefore, far out on the ocean it is needed to establish what you might call a 'near-shore-environment' to make room for the converters that convert power from alternating to direct current.
Energy islands are exactly such 'near-shore-environments', whether it be in the size and shape of sand filled, artificial islands, large platforms, caisson constructions or even, as is the case with Bornholm in the Baltic Sea, an actual existing island far out at sea and situated between several countries.
From energy islands hybrid electrical interconnectors will at the same time connect the power grids of multiple countries and transport the many Gigawatts from hundreds or even thousands of surrounding offshore wind turbines to the shores of the countries as well.
By doing so it is easier to connect the next windfarms and the next country to the hubs. It will also save electrical infrastructure on land, exporting the energy in cables on the seabed instead of moving it through more and more transmission grid cables or power lines on land from one country to another.
The need for innovation and new industrial standards
With this new paradigm comes a speedier and more ambitious fulfilment of climate goals. But the paradigm will only get moving if researchers and business leaders within the fields of HVDC-technology see the long-term opportunities and engage actively in developing tomorrows industrial standards of meshed offshore power grids and energy islands.
There are at least four important areas where we need innovation and new industrial standards - that is four areas with a huge potential for future revenues for businesses and future research breakthroughs for academics in the field.
1. The future of a power system based almost entirely on inverter-based resources
As Danish scientists has pointed out in a whitepaper from 2021, the energy islands are a "unicorn of the fully decarbonized power system of the future" because the electrical infrastructure of the energy islands is 100 % based on inverter-based generation with no inertia, that is, no energy-buffer from the rotating masses in traditional power systems. The technology of such systems is available as individual components, but there are no industrial standards in place to operate large scale systems like that in a safe and seamless manner.
2. Multiple energy islands will form a meshed offshore grid
Today each offshore windfarm with connections is constructed individually, and when build we have no experience with combining such single systems into large, meshed grids. HVDC converters need to be multiterminal, that is, to be ready for connecting more HVDC cables to the same converter, aligning control-systems etc. across multiple vendors.

3. Special needs for connecting large HVDC systems with small AC power grids
On top of these challenges Energinet, the Danish TSO, has dedicated themselves to try and solve the challenge of preparing the electrical infrastructure on Energy Island Bornholm to create a connection between the large scale HVDC system directly to the small 60 kV AC grid of Bornholm - although the system off course primarily is designed to connect 2-3 GW of power to the Danish and most likely German transmissions grids.
This activity is also highly innovative and could be significant other places in the world, i.e., where small areas of electricity consumption is scattered over large distances. This is the case in Indonesia for example, where research on the topic is going on.
4. Energy islands, hydrogen and Power-to-X
In Denmark today, half of all electricity consumption is covered by solar and wind energy. In 2030 the share of these renewables will be 100 percent. As well known, this is not the case in all other parts of Europe. That is why growing capacities from the offshore windfarms around future energy islands most probably should be used for further electrification of households and industries in Europe.
But at the same times it is clear that a lot of the capacity will also be used for the production of hydrogen for decarbonizing hard to abate sectors as well as for storage and balancing of the electricity system. The latter being a key issue in a coherent European energy system with rising shares of weather dependent renewables. New studies from the TSO-consortium North Sea Wind Power Hub shows that integrated solutions with transmission of both electricity and hydrogen from offshore production facilities are viable.

We need to work together
No man is an island. So goes the saying of John Donne, an English writer of the 18th century, describing the fact that no one is truly autonomous or self-sufficient but depend on each other.
"No man is an island" is something to be taken very seriously when developing energy islands. Therefore, we warmly recommend you reach out and read more, for example here:
Read about the Danish energy islands here:
---
Thumbnail & banner credit: Mark König on Unsplash