Reaching Economy-Wide Decarbonization: Industry Transformation
CIGRE 2022 Paris Session Opening Session & CEO Forum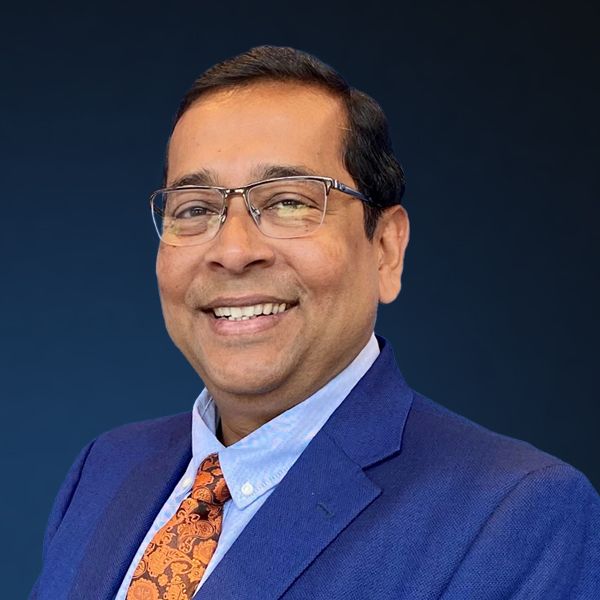 By Dr Arshad Mansoor, CEO, Electric Power Research Institute (EPRI)
I recently had the honor to open the CIGRE World 2022 Paris Session, giving the keynote address for CIGRE's record session event of 3,700 energy professionals representing nearly 100 countries. The global audience was important because innovation and decarbonization doesn't happen in a vacuum. It's going to require all parties working together if society is to meet clean energy targets.
All sectors of the economy need to work together to meet our collective decarbonization goal. The U.S. power sector has already made significant efforts to reduce emissions, driven primarily by end-use efficiency and lower-emission generation. For greater emissions reductions, the U.S. will need to address hard-to-abate sectors, such as buildings and industry. This is an opportunity for the power sector to help electrify these sectors, requiring a transformation of our business. As I'll explain below, that includes new business models and workforces, and innovations not only in technologies, but in policies and regulation, market structures and supply chains.
But reducing emissions is only part of what's needed. Energy security, affordability, and reliability are of equally vital importance. One must only look at the high energy prices in Europe to know just how key it is that this energy transition is done affordably.
Resilience is also imperative for a successful clean energy transition. Much of the existing power system was designed and built for a future that has already come and gone. We must redesign and rebuild the power system to meet the needs of the future and to withstand the climate and weather of the future. There is a preponderance of scientific evidence that the climate is changing. The most recent Intergovernmental Panel on Climate Change (IPCC) report makes clear that the climate has changed and the future will bring more frequent and extreme weather events. Bolstering the power system's resilience against severe weather is essential as increased electrification makes all sectors increasingly reliant on a reliable supply of affordable power.
Industry Transformation Q&A
As part of my address, we live-polled attendees about what's needed to meet decarbonization goals. These poll results yielded some very interesting information.
For example, asked how confident attendees were that 2030 decarbonizing goals for the electricity sector in their respective countries could be met, nearly sixty percent said it would be difficult but achievable.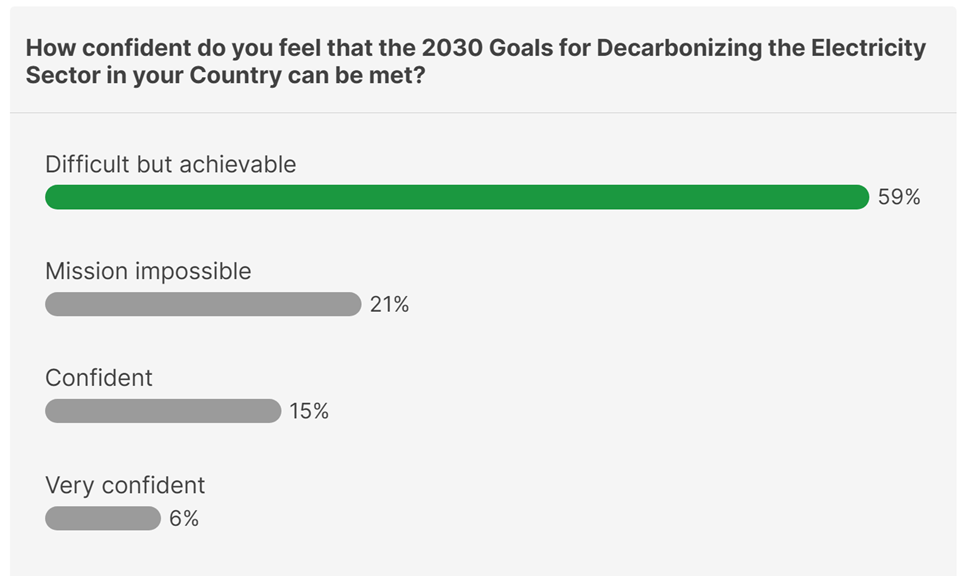 Asked to choose the most important technology innovation needed to enable the grid for decarbonization, 55 percent said long duration energy storage. This answer is interesting because it shows we are willing to move out of our traditional power generation and delivery comfort zone—moving into the hydrogen and thermal energy storage space, which are among the transformative technologies of a decarbonized power system.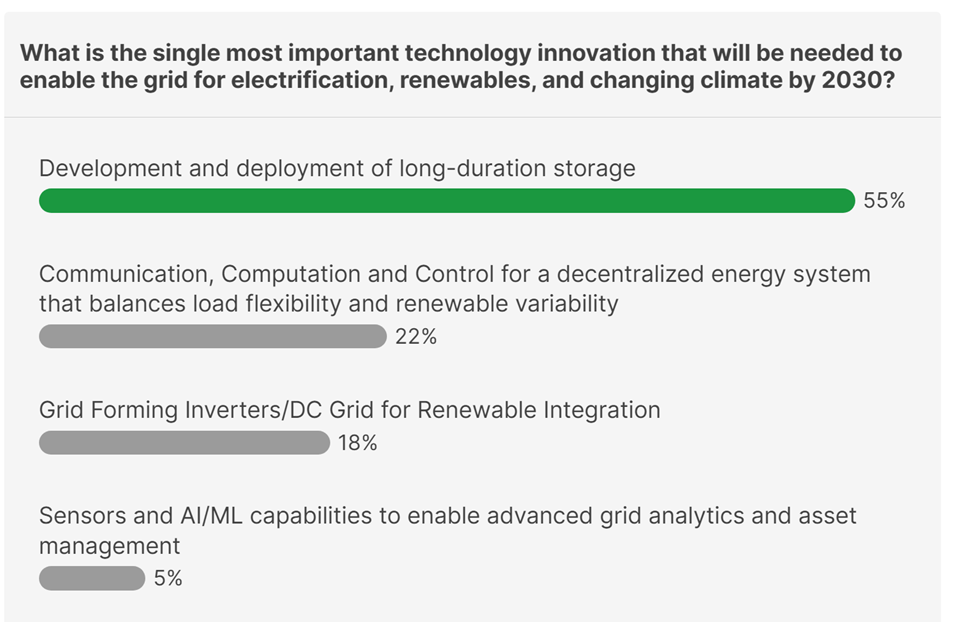 But technology is not enough to reach our decarbonization goals. Nearly half of those polled (48 percent) believe policy and regulatory innovations are needed to assist with achieving the near-term goals, followed by technology (at 26 percent).
This answer reveals the importance of policy and regulations in supporting decarbonization. It also emphasizes that this is an arena in which energy organizations such as CIGRE, the Institute of Electrical and Electronics Engineers, and the International Electrotechnical Commission can perform an influential role by providing a power system perspective and objective information to support informed decision making.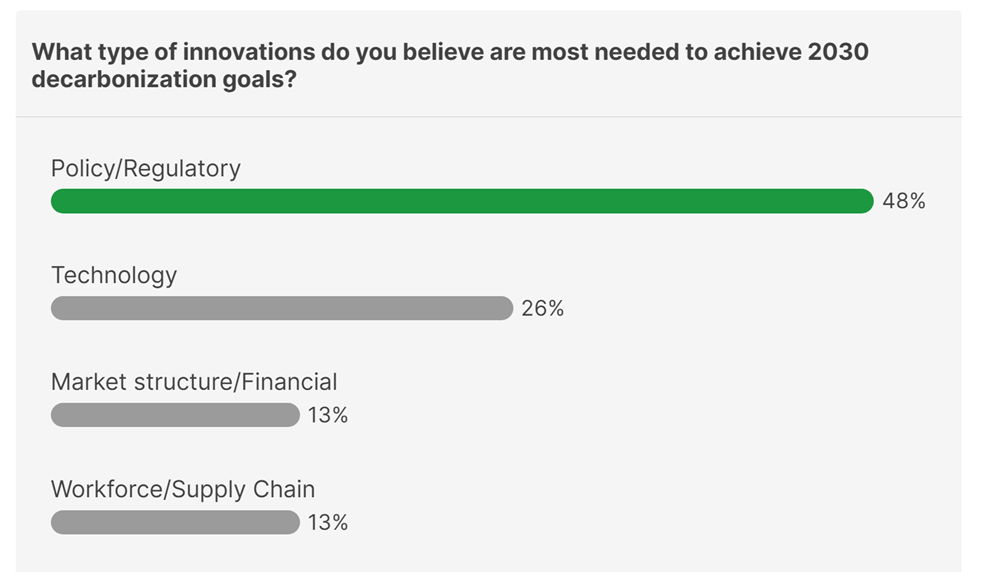 The final question addressed market structure changes needed to meet decarbonization goals. Responses show a clear desire for structures that facilitate resiliency investment and flexibility services going forward.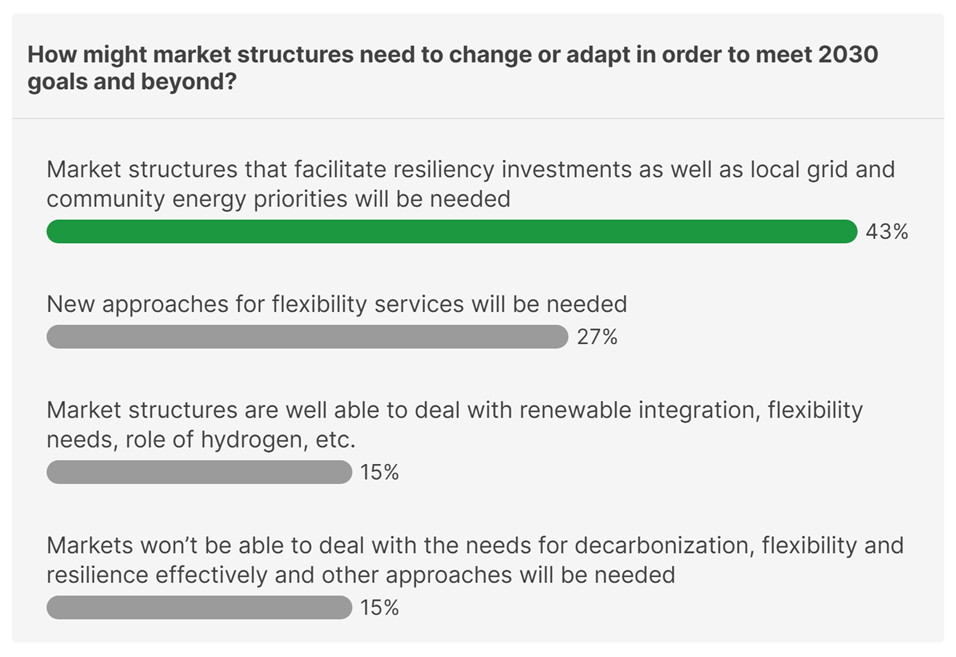 CEO Forum: Industry Transformation
In addition to delivering the keynote address, I joined Dr. Shay Bahramirad of LUMA Energy and Mr. Tuncay Türkcar of E-bridge Consulting during a panel discussion at the CEO Forum, with more than 100 chief executives in attendance. In answers to the following questions, these leaders provided feedback on topics ranging from the emergence of new business models to energy security and the changes their companies will make going forward.
New business models
The clean energy transition means more integration of transmission, distribution, and retail generation, and not just on the electricity side. Responses indicated the future utility business model will shift from being an electricity provider to having blurred boundaries around generation, transmission, distribution, storage, even transportation. Partnerships among customers, third parties and data providers could deliver individual customer experiences as utilities transition from being electricity providers to energy providers.
Electrification of transportation is a key decarbonization goal. Not all forms of transportation can be electrified, such as maritime shipping and large aircraft. But clean electricity can make clean molecules—hydrogen, ammonia, methane—that will provide the maritime fuels and jet fuels of the future. The opportunity to produce these fuels and other chemical products via electricity-based processes and new business models can be nurtured through creative and holistic thinking.
Many attendees agreed that producing hydrogen using clean energy and the need to balance the intermittent nature of renewable generation open opportunities for new business models.This could include using excess renewable energy to produce renewable hydrogen, and developing storage capabilities for it, which could in turn transform the industry. The combination of hydrogen production and technologies with advances in storage, flexibility, and digitalization rose to the top of key factors in evolving business models.
Risk factors and energy security
Energy security needs to be valued in the planning process. Adapting the grid and proactively planning upgrades to handle extreme weather require evaluating trends in future climate projections, assessing grid vulnerabilities, and investing in robust risk mitigation options that account for regional differences.We heard a range of concerns that included cyber attacks, scarity of resources, and supply chain risks. A resilient transmission system is also top of mind from a relability perspective, as well as transmission buildout. Industry leaders see a need to maintain baseload generation to offset intermittent resources. This is in addition to the ability to move carbon-free electricity generated from renewable resources greater distances to the population centers that need it.
Company changes
The energy transformation requires the transformation of energy companies, addressing issues ranging from the workforce to new technologies. That means having the skilled workforce in place to support new technologies and business models Energy companies need to think differently about how to retain and attract talent, as well as new ways of training incoming talent.
Meantime, data, digitalization, and automation are all top of mind for leaders in order to stay competitive, leverage existing assets, and increase flexibility across organizations. There is also recoginition that investments in technology development are needed to provide greater flexibility for production and delivery of energy and for customers on the user side. Fron microgrids to water heaters, digital platforms will support optimization of the overall energy system.
Conclusion: Difficult but Achievable
These comments underscore the need for collaboration in addressing challenges facing the power industry. Reaching decarbonization goals, as CIGRE attendees indicated, will be difficult but achievable. If we are collectively to reach clean energy targets, and to do so reliably, affordably, and equitably, it will require all of us working together.