Cyclones, floods and landslides impact our lives as parents, citizens and professionals working in energy infrastructure, caring for our families and communities
It is critical to speed up energy transition for meeting Paris Agreement targets. With this paper, the Women in Energy "Net Zero Initiative" would like to support the call to act now to reduce carbon emissions. Increasing resilience to climate-driven weather events that will become more frequent and severe is of utmost importance.
by Britta Buchholz (DE), Leonie Bule (NZ), Mokgadi Malefafana (ZA), Themesha Khan (ZA), Solange David (BR), Elise Fahy (CH), Erika Breda (IT), Jun Wen (US), Maigha Fnu (US), Marcela Mantilla (FR), Tal Katz (IL), Khayakazi Dioka (ZA)
In this article, CIGRE members share their stories and personal perceptions of how hurricanes, storms and floods resulted in catastrophes in their regions, resulting in fatalities and destroying infrastructure. The authors further share responses to these disasters. They emphasize the importance of solidarity among neighbors and throughout the global community for improving resilience.
Vanuatu: From crops to infrastructure: destruction by a cyclone is indiscriminate and widespread
South Africa: When water, the essence of life, becomes a threat.
Brazil: Female leadership and community resilience in the face of climate change
Germany: Extreme precipitation beyond imagination caused 184 fatalities and became costliest natural disaster to date
Italy: People´s solidarity in response to catastrophic weather events
US: Extreme flood hits harder and more often: how a one in 1,000 years event happened 5 times in 5 weeks.
In the next edition, CIGRE members will share stories about extreme heat and droughts and their severe impacts on people's lives.
Asia Pacific/Vanuatu: From crops to infrastructure: destruction by a cyclone is indiscriminate and widespread
By Leonie Bule
Cyclone Pam, a category 5 cyclone, was recorded as the strongest in that cyclone season with estimated wind speeds just above 250-km/h and gust around 320-km/h. It made landfall on the small group of islands of Vanuatu the night of the 14 March 2015. According to reports more than 50 percent of the total population of the country was impacted by the cyclone and estimated 95 percent crops have been damaged in affected areas. (OCHA, 2015)
The cyclone damaged 5 percent of the overhead high and low voltage poles and cables (Post, 2016). However, the proportion of total grid connected population impacted by the damages was above 60 percent.
I was working at that time as the design and project department interim manager for the power utility in Port Vila, Unelco Engie. Vanuatu as a tropical country is vulnerable to frequent tropical cyclones. However this unprecedented event brought financial strain and on stock, physical and social strain on human labour force and their families. There was a shortage of food and clean drinking water.
Cost of repairs totaled up to approximately 2.5 million USD. Power utility teams dedicated 2 weeks of long hours and restored 60 percent of the grid-connected population's electricity and helped the people transition back to normality. The recovery work continued for one or two years. Among other aid donors, the Australian, New Zealand, Japanese, and Chinese governments provided recovery funds and support through personnel on the ground.
South Africa: When water, the essence of life, becomes a threat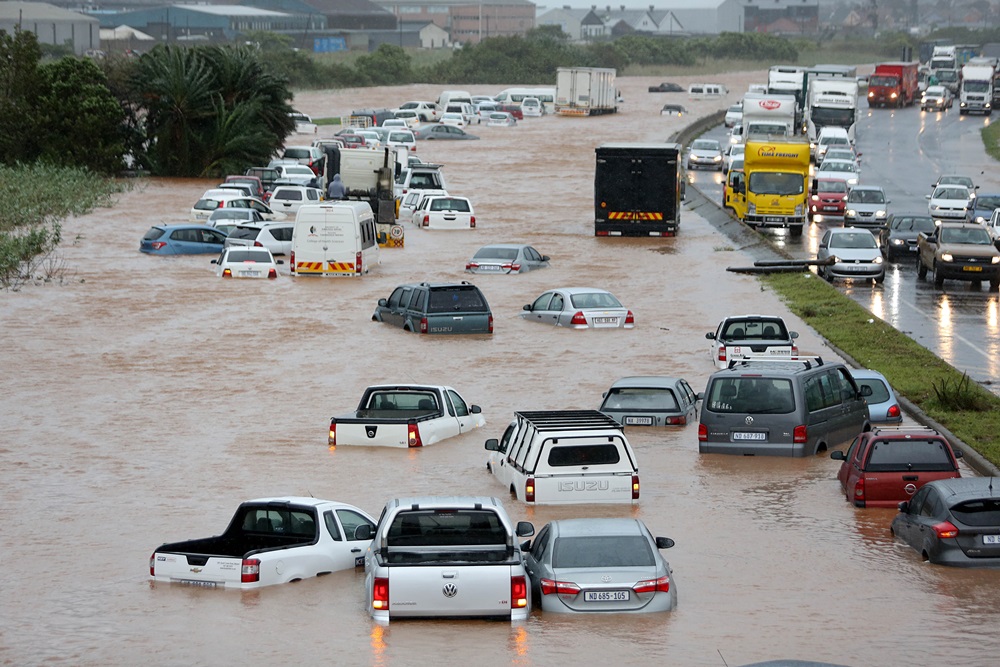 By Mokgadi Malefafana & Themesha Khan
Between 11-12 April 2022, the eastern coast of the KwaZulu-Natal (KZN) and Eastern Cape (EC) provinces in South Africa experienced severe rainfall, claiming people's lives, and damaging roads, houses, and disrupting education. Recently, Gauteng province, Johannesburg experienced a flood that claimed about 14 lives.
These catastrophes left those in impoverished communities in even more distressing conditions and exposed the vulnerability of women and children. Communities that still occupy flood-prone informal settlements are exposed to a higher risk of flooding disasters.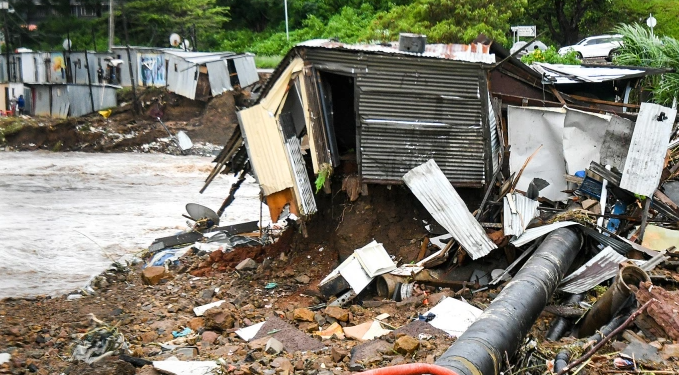 The aftereffects of these floods left women to shoulder much of their family's responsibility. Women become more open to flood management training, giving them agency and strength.
Climate change is human induced. It is therefore our collective responsibility to improve our resilience and adaptability should these disasters recur and to transition to clean energy as part of mitigating the effects of climate change.
Brazil: Female leadership and community resilience in the face of climate change
By Solange David
On 15 February 2022, a storm in Petrópolis, Rio de Janeiro, was considered the most intense of all times. It caused a land slide. There were more than 240 fatalities. More than 60% were women, in addition to men and children under age 18.
Some aspects stand out: the municipality had its mountainous territory quite occupied, mainly by poor communities, regardless of the risks that already existed. Some women acted effectively during and after the tragedy to help people and became community leaders. Specialists have understood that the rains represented a "tip of the iceberg" of climate change.
This analysis confirms that climate change affects the most disadvantaged or unprotected people, especially women and children; and the greater importance of the adoption of actions by the public authorities and the social awareness about climate change.
The government allocated special funds of several million USD to better mitigate risk in this area, in addition to the proposed review of the contingency plan and civil defense protocols related to the prevention of catastrophes and climate change. Also, the creation of a reference center for assisting victims (including mental disorders) is under discussion.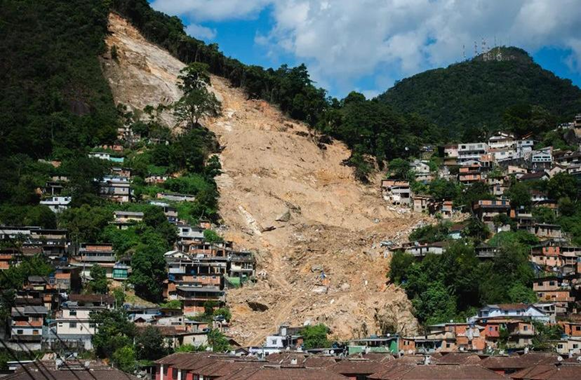 Europe - Germany: Extreme precipitation beyond imagination caused 184 fatalities and became costliest natural disaster to date
By Elise Fahy
The summer 2021 floods in Western Europe caused significant impacts in small- to medium-sized river valleys, with the greatest damage and loss occurring in the Ahr valley in north-western Germany. On July 14-15, a slow-moving storm system dumped two months of rainfall onto lands saturated by an abnormally wet spring and summer, causing overflows and flash flooding in smaller rivers. The storm and resulting floods became life-threatening in a short period of time, and in Germany, 184 lives were lost. The event was the costliest natural disaster in the country to date. Many villages and small towns were severely damaged, and the distribution system infrastructure was either damaged or completely destroyed (CEDIM, 2021).
Climate change increased the likelihood and severity of the storm and flood in 2021, and the risk of extreme precipitation and severe flooding is projected to increase in Western Europe with every degree of warming. Future flood risks in Germany's smaller river valleys must be evaluated more thoroughly, as is already the case for the large rivers such as the Rhine. Risk assessments and mitigation measures will lead to increased resilience of communities, as well as the ability to plan and operate resilient and sustainable energy systems.
Europe - Italy: People´s solidarity in response to catastrophic weather events
By Erika Breda
Italy is a fragile country. Ninety-four per cent of its municipalities, or 7,400 inhabited centers are threatened by landslides, floods and coastal erosion. This impressive figure was provided by Civil Protection twenty-four hours after the disaster in Ischia, where at dawn on Saturday, 26 November 2022, a landslide hit Casamicciola Terme and its approximately seven thousand inhabitants. The violent flow of mud and boulders left at least eleven people dead and displaced hundreds (Ischia 2022).
Environmental disasters did not just happen in recent years. In 2014 in Parma, I experienced first-hand what it is like to see water and mud reaching the lower floors of houses. Seeing how garages filled with water at absurd speeds, cars that were on the bank of the torrent were dragged down by the water. The Civil Protection intervened to rescue patients from the nearby hospital by boat dinghy along a road that a few hours before was passable on foot. Telephone lines were cut due to water that flooded the power station, and electricity blackouts occurred in many areas.
Fortunately, the situation improved in the evening. Many people from other areas of the city arrived and helped to remove the mud and return to normal as soon as possible. Huge solidarity supported recovery.
US: Extreme flood hits harder and more often: how a one in 1,000 years event happened 5 times in 5 weeks
By Jun Wen and Maigha Fnu
Five so-called "1,000 year rainfall events", i.e. with a 1 in 1,000 chance that a flood of that magnitude will occur in any given year, struck U.S. in five weeks during summer, 2022. These extreme events hint at an overarching trend that is driven by global climate change.
In the July Kentucky flood, parts of eastern Kentucky had received between 20.32 and 26.67 cm of precipitation over 48 hours. The incredible rainfall, topping 5.08 cm per hour led to significant water-level rise and flooding on many rivers in eastern Kentucky, including a record high 3.35 m water-level rise in the North Fork of the Kentucky River at Whitesburg. A total of 43 people lost their lives in this devastating event, including 4 children. In another mandatory evacuation in New Orleans, 80% of the women remained even though they represented only 54% of the total population.
Such outlier events are becoming frequent and exposing vulnerabilities, inequalities and biases. After being consistently ignored, women community leaders, and activists are voicing concerns against these calamities. On a positive note, the U.S. government, on 14 November 2022, Gender Day at COP27, announced strategies and initiatives addressing the disproportionate climate change impacts on women and steps for their empowerment (State 2022).
Conclusion and outlook
In this article, CIGRE members shared catastrophes that were affecting their regions. One common observation is that women, elderly and children are amongst most vulnerable groups in society and thus were hit harder and more numerous during those catastrophes. Catastrophes naturally triggered the female instinct to protect their community, and it inspired local and community leadership.
Furthermore, behavior of society has been addressed: solidarity among neighbors, across genders and globally is crucial to improve resilience. The establishment of a "Loss and damage" fund at COP27 goes into that direction. Countries that have contributed to climate change shall pay for climate induced loss and damages in vulnerable countries. (UN 2022)
As an outlook, responding to catastrophes, several governments have already revised or are currently revising their disaster prevention protocols. Further, technology suppliers develop software and hardware solutions for warning, prevention and improved responses. This shall improve resilience of energy infrastructures in general and specifically for cyclones, floods and landslide-related events.
Insurances are alerted to climate induced risks for electrical infrastructure and request appropriate resilience measures.
This article shall be the first in a series where possible solutions and lessons learned from natural climate-related disasters shall be addressed in a follow-up ELECTRA articles.
References
MSNBC 2015, Disaster' in Vanuatu after Cyclone Pam tears through Pacific Archipelago. Retrieved from MSNBC: https://www.msnbc.com/msnbc/disaster-vanuatu-after-cyclone-pam-tears-through-pacific-archipelago-msna551171; 21 March 2015.
OCHA 2015, Tropical Cyclone Pam - Mar 2015. Retrieved from ReliefWeb: https://reliefweb.int/disaster/tc-2015-000020-vut; accessed 21 December 2022
pikwizard 2015, Cyclone Pam royalty-free images. Retrieved from shutterstock, March 2015
Post 2016, Restoring water and electricity after Cyclone Pam. Retrieved from Daily Post: https://www.dailypost.vu/news/restoring-water-and-electricity-after-cyclone-pam/article_55ed1b5b-ee9a-580d-9c92-5bbb94a7f6ab.html, accessed 21 December 2022
Gallo 2022-1, https://www.dailymaverick.co.za/article/2022-06-20-human-factors-not-just-the-climate-crisis-aggravated-kzn-floods-top-hydrology-researcher/, accessed 21 December 2022
Gallo 2022-2, https://www.dailymaverick.co.za/article/2022-04-14-explainer-why-kzn-was-flooded-and-why-its-likely-to-happen-again, accessed 21 December 2022
SouPetropolis 2022, https://soupetropolis.com/2022/03/24/mais-de-2-700-imoveis-sao-interditados-apos-tragedias-consecutivas-em-petropolis/, accessed 22 December 2022
https://www.revistaphilologus.org.br/index.php/rph/article/view/1169/1245, accessed 22 December 2022
Chamber 2022, Chamber of News Agency / Federal Chamber of Deputies), https://www.camara.leg.br/noticias/867587-gestores-de-petropolis-querem-revisao-nos-protocolos-de-defesa-civil-apos-mudancas-climaticas/; (2) https://www.camara.leg.br/noticias/867587-gestores-de-petropolis-querem-revisao-nos-protocolos-de-defesa-civil-apos-mudancas-climaticas/, accessed 22 December 2022
CEDIM 2021, "Hochwasser Mitteleuropa, Juli 2021 (Deutschland), Bericht Nr. 1 'Nordrhein-Westfalen & Rheinland-Pfalz'", CEDIM Forensic Disaster Analysis (FDA) Group, Karlsruhe Institute of Technology, Karlsruhe, 2021, [Online] available: https://www.cedim.kit.edu/download/FDA_HochwasserJuli2021_Bericht1.pdf, accessed 5 January 2022.
Ischia 2022, https://www.linkiesta.it/2022/11/ischia-frana-alluvione-dissesto-idrogeologico-condoni-clima/, accessed 22 December 2022
State 2022, https://www.state.gov/at-cop27-our-climate-future-is-female-a-progress-report-on-implementing-u-s-efforts-to-advance-women-and-girls-climate-action/, accessed 22 December 2022
UN 2022-1, COP27 closes with deal on loss and damage: 'A step towards justice', says UN chief | UN News, accessed 22 December 2022
UN 2022-2, https://unfccc.int/topics/adaptation-and-resilience/the-big-picture/introduction#loss-and-damage, accessed 22 December 2022
---
Thumbnail credit : Photo by Tom Barrett on Unsplash